Refresh Formula
A unique essential oils blend to help improving your stiff neck and shoulder, aches and pain, aching joints, muscle soreness and blood circulation.
This special Refresh Formula took more then a year to perfect, from experimenting the right combination of different essential oils, testing it on different conditions, improving on the scent to the bottling of it.
Firstly, it was designed with the best user experience in mind. Many users can experience its long lasting effect. Some people even commented they experienced total removal of aching joints overnight.
Secondly, the soothing and refreshing aroma differentiates it from the common pain relief liquid or gel available in the market. You have no worries of any pungent smell after the application. Some people will even ask you what fragrance are you using. You can use it anytime and anywhere. Many people like the refreshing feeling after using it, thus the name Refresh Formula.
Thirdly, bottling it in a roller bottle means it is easy for you to carry around without worrying of spillage. The roller bottle tip also can serve as a massage stick to massage the back of the neck and shoulder easily. With this design, you can relieve your aching area simply and easily.
How to use it?
For aching joint or sore muscle: Apply a thin layer of the Refresh Formula on the aching area or the sore muscle. Rub firmly and gently at the aching area in a circulation motion until it is warm. You do not need to massage hard, especially if you suspect there is an injury. Hard massage might aggravate the injury.
For headache and relaxation: Apply a thin layer of oil on the pain area, gently rub the sore point. After that, comb your scalp using your ten fingers from front to back too soothe the Qi flow.
For stiff neck and shoulder: Apply a thin layer on the neck area. Massage firmly (not too hard) using four fingers, in the direction from top to bottom of the neck. For hard to reach area, use the roller bottle as a massage stick to massage firmly. After that, rub the area with palm to keep that area warm.
Retail Price: S$15 per bottle, $25 per two bottle. (excluding delivery cost)
Delivery Cost: S$4.99 (Singapore Only).
Sommeil Formula
One of the useful essential oil is Sommeil Formula. This is a very effective blend not only for calming and improving sleeping quality. It has been very useful for people with respiratory tract issues such as sensitive nose, sinus, cough or flu.
It is a special blend of effective essential for respiratory health such as Mint, Thyme and essential oil from Chinese herbs commonly used for flu and cough.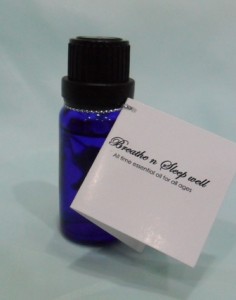 Sensitive and Runny Nose Condition
1) Drop two drops of the oil on a tissue paper. Put the tissue paper near to our nose to breathe. Most of the time, the runny nose and sensitive nose condition can be relieved within 10~15min.
or
2) Put a drop of oil at each of your middle fingers. Rub gently at your Ying Xiang acupoint and breathe deeply at the same time. It helps improve the nose block or runny conditions within 5 sets of the self-massage routine.
Improving Sleep and Relaxation
1) Put a few drops of the oil at the wrist joint area and Nei Guan acupressure point (3 fingers from your wrist joint area), gentle rubbing until the oil is fully absorbed into your acupressure point.
2) Put one or two drops on top of your head, gentle tapping on your head and breathe deeply. Practice deep breathing technique as taught in LOHAS Meridian Exercise class.
3) As you perform above two action, tell yourself it is okay to relax and sleep better for the next few hours.
Retail Price: S$32 nett (excluding delivery cost)
Delivery Cost: S$4.99 (Singapore Only).
Call/SMS 90662770 to order.
Email us at enquiry@beaconlohas.com or contact us here for more information.