TEA BREAK, a tea series made for the modern souls with modern lifestyle.
It is uniquely blended based on the importance of the FIVE ELEMENTS of our body which have their unique characteristics and are related to the FOUR SEASONS of Mother Nature.
Soothing is a tea designed for the Liver.
Liver represents "Wood" of the five elements and it is related to "Spring". It is one of the important organs that help our body to detoxify. A healthy LIVER will translate to better digestion and detoxification, better eye sight, stronger nail and tendons, as well as a better mood.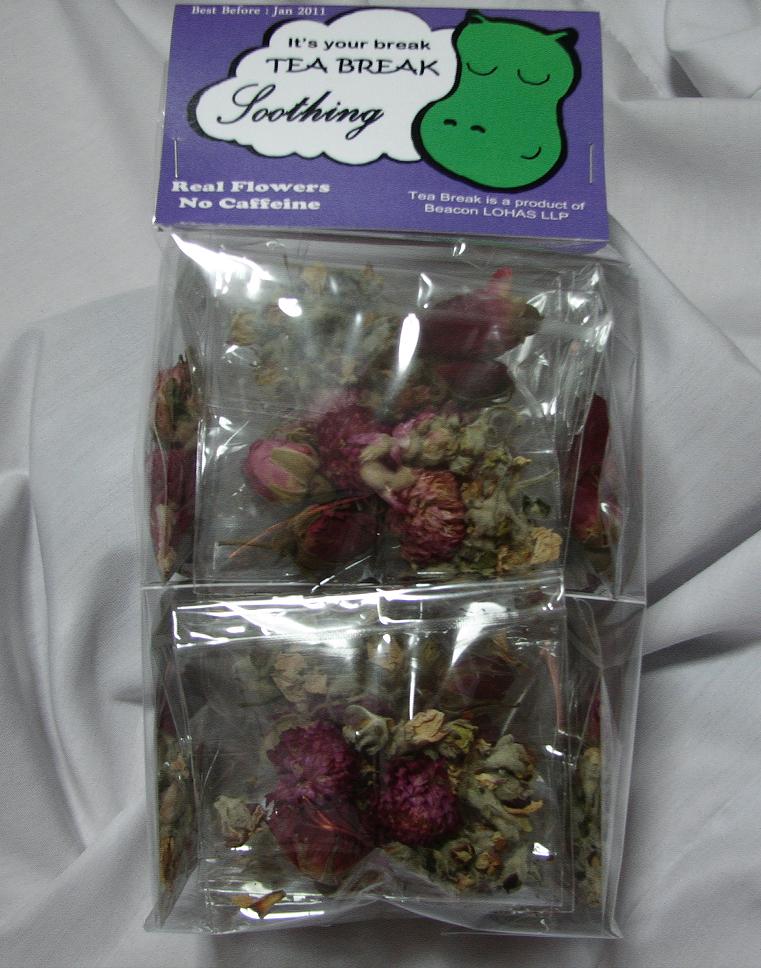 Soothing allows one to enjoy the calmness and serenity, relieves tired eyes due to sleeping late or long hours at the computer, beautify skin, aids detoxification, refresh breath, nourish our meridians and thus improve the flow of Qi and blood to our vital organ.
Soothing is also a LOHAS (Lifestyle of Health and SUSTAINABILITY) tea; a better alternative to typical Chinese or English tea because it does not contain caffeine.
It also provides a smooth sensation for our drinking pleasure.
For the busy young and trendy executive, Soothing makes a perfect drink at work as it relieves tired eyes due to long hours of work. It beautifies your skin and refreshes breath. A soothing afternoon tea session let you experience the calmness with the sense of natural flower and the beautiful blossom closer to you.
Soothing is a perfect gift for the old and young too. It is the best companion for students who study late at night and a healthy drink for the age. It also enhances the spa lovers experience as it brings nature closer to you.
Soothing is the best solution for modern lifestyle.
Soothing comes in three different packaging suitable for different occasions.
| | | |
| --- | --- | --- |
| | An easy and light carrier pack with 20 sachets. Each sachet serves two fillings. | |
| | | Six sachets packed in an elegant box makes it a perfect gift for any occassions. |
| | | |