I happened to go to Tanjong Pagar area to attend a seminar two Saturday ago. The MRT station was relatively empty so I decided to use the staircase I hardly use to explore that area.
Upon approaching the stair case, I noticed there was a group of people sitting at the staircase. I thought they might be waiting for their friend. As I walked passed them, I sense a typical traditional massage oil or something similar to that. The wife was frantically rubbing her husband shoulder and she looked worry. The husband look a bit pale and his eye could hardly open. As I was running late for the seminar, I walked pass them without much thought. When I was walking up the stairs, I ask the Malay young lady who attended to him what had happened. She just shrouded her shoulder say, "may be giddy la". 
As I reaching the next level my instinct told me to go back and have a look even though my typical traditional family teaching was "Mind your own business".
I climbed down the stairs and walked towards the group a people. The wife still keeps on rubbing the husband shoulder and neck while their children sitting behind waiting helplessly.
I introduced myself and told them I teach people self help massage. I offered my help. I guess the wife was worry and helpless that time. She accepted my offer without much thought. I asked a few clarifications questions to access the situation. 
Apparently the husband fainted in the train a while ago. The other passengers helped to carry him out to the control station and leave them there. This guy has history of high blood pressure and he didn't forget to take his medicine nor having empty stomach. When I touched him, his hands and feet were cold. I was worry that he might have a heart attack. 
Quickly, I massage his heart and pericardium meridian, especially the Sheng Men and Nei Guan area. When I tried to talk to him, he looked so blur and had a cold sweat. He was complaining he is giddy and could not stand up. So, I taught the wife how to massage both meridians while I try to help him regain his consciousness through massaging the forehead, Ying Tang and the Feng Chi area. His head and neck were also cold too. 
I used Mint essential oil to help him feel better. At the same time, I suspect it might be heart attack because his body, neck, hands and arm still feeling cold. For that reason, I used a bit of strength to press on his Shao Fu point because this point is useful for emergency case as such. After doing it about 5 to 10 min, his body finally is getting warmer. Finally, he is more conscious and able to stand up and walk with his wife help.
I still remember that I taught one of my Meridian Massage Comprehensive Workshop & Retreat classes that this massage point is for emergency situation only. Most likely they won't need to use it. However, I think I will need to take my word back because we may not predict when emergency is going to happen. It could be somebody else or it could be our loved one. Somehow, this incident strengthens my belief that if there is one person in the family learns LOHAS meridian massage, he or she can help to take care of the family, especially during emergency.
As I continue my journey to the seminar, I tell myself that "it is a blessing for me to learn the meridian massage and it's a privilege to have the opportunity to teach this self help massage technique to public". 
Latest Update: Edwina used similar techniques to help her father-in-law on July 2011. Check out her story at LOHAS DIGEST 26.
Meridian Massage Comprehensive Workshop and Retreat 
Event photos
| | | | |
| --- | --- | --- | --- |
| | | | |
| Youngest participants? | Scientific Proof of Meridian Functions | PT enjoyed questions from partitcipants. | Lung  Meridian is very important! |
| | |   | |
| Shimah very interested in 5 elements. | Peng Liang practised what he learnt. | The angels that made things happened. | Participants practised what they learnt. |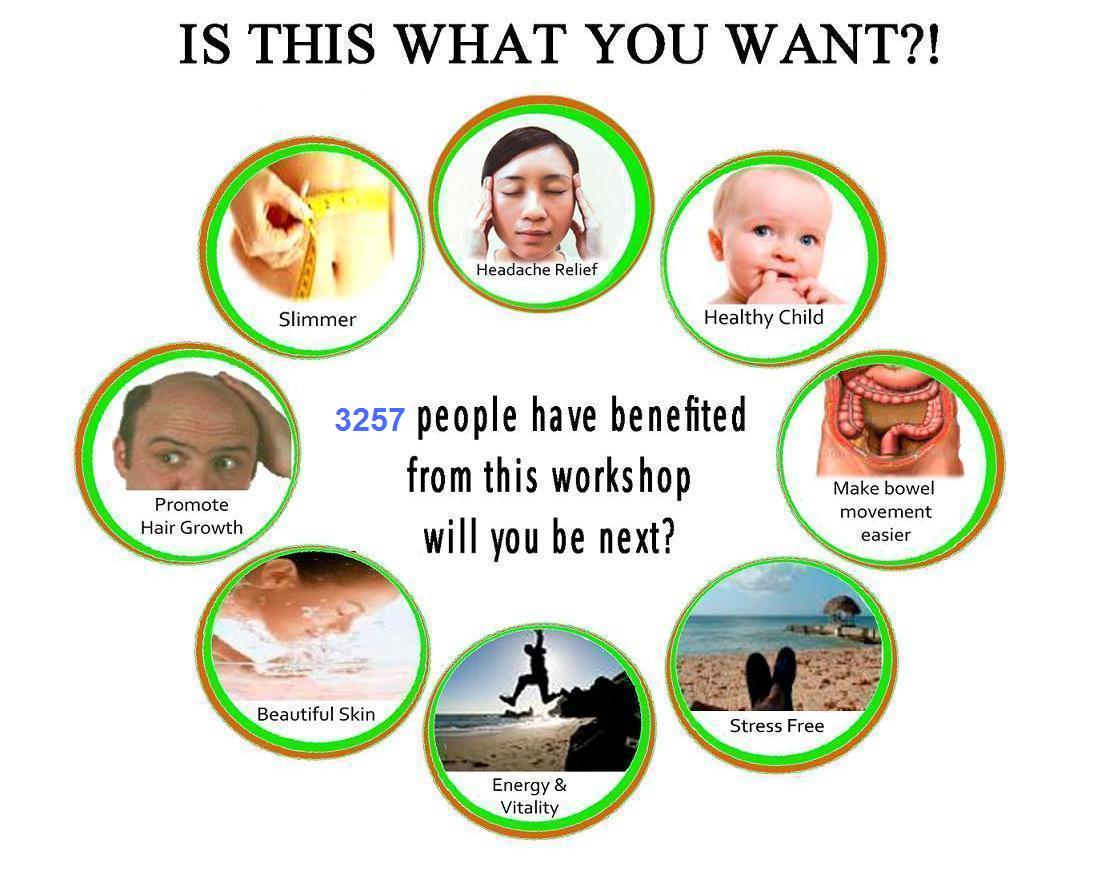 THIS IS NOT A TYPICAL MASSAGE WORKSHOP!!
LOHAS Meridian MassageTM Practical Workshop is designed for the busy individuals. It helps them to save time and money.
The meridian interconnect deep within the body core and there are specific acupressure points along the meridians.  They can be envisioned as highways between the acupressure points in the body.  The common illness we have in our modern society can be frequently linked to the blockage of the meridians.
LOHAS Meridian MassageTM helps to clear the blockage in our body and thus helps to strengthen our internal organs and balance the five elements of our body.  It is therefore able to help to relieve many common illness and pains such as migraine, flu, cold, fever, indigestion, PMS, constipation, acne, lethargic and skin problems.
An amazing session of  LOHAS DIY Meridian Massage Practical Workshop (DIYMM-p) was successfully conducted.
| | | | |
| --- | --- | --- | --- |
| | | | |
| Top student | Complete chart of 5 elements with Spanish flavor. | Peng Liang studied the prize he won. | This is very important point.  Practise made perfect. |
| | | | |
| Repetition helps learning. | Miss Tan enjoyed the learning experience. |  Naming one of the acupoint after our student. |  Shimah overjoyed with her name linked to imporant acupoint. |
| | | | |
| Special blended oil to relax and calming | Yes, this is important for relieve ache & paint. | Hear no evil??  This is temple for listening. |  How to help a person relax in 1 minute. |
| | | | |
| Demostration on reliefing neck ache. | Importants points for healthy exercise. | This is what we created together! | Ancient Egyptian symbols? |
| | | | |
|  Special floral tea prepared for tea break. | Our body natural pain killer. |   This is important for Qi | How to relieve ache and pain in 1 minute. |
| | | | |
|  This feels good. | Don't stop, I like that. | Active volunteer in the class earn a free massage later. | |
| | | | |
The workshop will cover the following topics.
Understand the wood, fire, earth, metal, water in our body.
How do the 12 meridians affect our health, emotion and natural beauty.
Discover your body type and how you can take care better.
Simple massage routine to strengthen respiratory system (Astma, Sinus, Sensitive Nose).
Effective massage and exercise for relieving stress, migraine, pain and ache.
One minute effective massage for Man and Women, Energy and Vitality, Healthier reproductive system, Balance hormone level.
– Massage to improve digestive system and detoxification (Bloated Stomach, Indigestion, Appetite).
– Simple steps to weight management, radiant skin and hair growth.
– Two complete sets of powerful and effective LOHAS Meridian Exercises for overall well-being
– Daily food that nourishes your meridian
Live Testimonial
"I like the simple massage technique", Sebatian. Trading Business
"The simple yet light hearted method makes the presentation and demostration clear and easy to remember", Steven Tan, Pet Shop & Fish Spa Owner
"What attracts me is the simple and easy way of massage", Mdm Ng, Homemaker.
"The DIY techniques that you taught them is definately useful as the Meridian Massage treats the whole body and thereby also causes a pychic balance…" , Mdm Aw, Program Executive
"You have a very interesting workshop and easy massage slimming method", Ivy Chan, Children Education Coach.
"The trainer is knowledgeable and show his passion in sharing his experience", CK. Financial Trading.
"The is a very informative session. Now I understand why I need to perform certain stroke in martial arts. It's enlightening. I am interested to learn the advance class.", Sunny, Feng Shui Practioner. 
"The session is very informative and yet practical", Devendra, IT Security Business Owner.
"This is easy to understand, simple and practical session. I hope you have weekdays class too." Mrs. Tan.
"I like the clear instructions, very helpful handout, active participation. The light hearted and practical aspect is excellent. Your workshop is very informative and enjoyable. Good Value!" Sheila, Massage Therapist, United Kingdom.
"I have tried other methods in relieving my constipation condition, however it took me half an hour to see the effect. After learning your unique technique, I see results in JUST 5 Minutes. Thank you for teaching this!", Clara Pang, Nurse 
""Another wonderful weekend with you all awesome people! Thanks for many practical massage tips", Wei Xian, 31 Aug 09
"Very enlightening workshop. Suitable for anyone who wishes to know about self-massage, personal health and well being", Dr. Neo, 30 Aug 09
"I have tried the method taught by the trainer, and it really relieved the echo in my ear", Amnah, Nov 09
"Yes, I have tried anger release massage on my mum and her mood improve a lot now", Margaret, Nov 09
"I tried the Anger Release Point you mentioned at the Mindef lunch time talk and I can sleep better that night. That is why I come to learn more", May, May 10
"I think the tapping technique you taught is working for me. I used to have stiff neck and shoulder, I feel "sng" (pain and soreness) at my calves every night. Now I don't feel it experience it anymore", Rachel, 28 Jun 10.
"I had tennis elbow last year and the doctor advised me to go for yearly injection. I tried meridian massage and exercise and I pressed my He Gu point regularly. Now I don't have tennis elbow anymore and the good things is I don't have to go through the YEARLY injection" Mdm Ow, July 10. 
Upcoming Meridian Massage Workshop:
LOHAS Meridian Massage Comprehensive Workshop 
Date: 22 Oct, 29 Oct, 5 Nov, 12 Nov Time: 2:30PM – 6:30PM
Venue: SCN Industrial Building (Previously Audio House address)
5 min walk from Aljunied Mrt
Limited Seat. Small class size to facilitate better learning for our participants.
Call 90662770 or 98620063 or email enquiry@beaconlohas.com to Register Now