This is sure an interesting experience for both the teachers and Beacon LOHAS trainers.
On the 4th of June, Beacon LOHAS trainers team arrived early at the Jurong Junior College assembly hall.
Since it was early in the morning during school holiday, will the teachers become less responsive?  Apparently NOT.
With Peng Tatt determination and focus to make this a fun and useful session for the teachers and their family, we finally got everybody excited with an energy level of 10.  Thanks to the very young participant, Jonathan's help.
From the picture, this is sure one group of fun loving people.
1) You are my good partner
2) It's also a family bonding time too.
3) Let us know each other better – fun & useful activity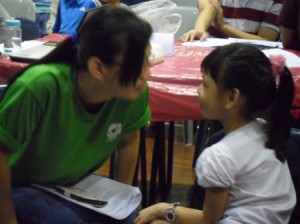 4) Mummy & I session.
5) Old school days when teacher use to inspect our nails? Your nails can tell a story about your health.
6) One of the beautiful scene – synchronized action 10/10.
7) Balancing and relaxing action.
8) Simple and powerful routine – 4 locations, 4 actions, 1 power station point.
9) Lets find our body natural pain killer point.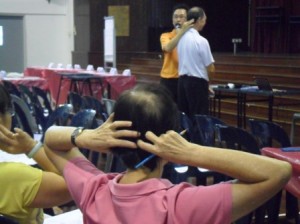 10) Do it together – important point so that you don't have to rely on pills.
At the end of the session, we received many positive comments from the teachers.  
Many teachers also approached us to have their health questions answered. We are glad to be able to share our knowledge and experience.
The ultimate word-of-mouth came when a few days later, we received a text message from a teacher of another school saying that her friend in JJC likes our interesting training.  
Thank you teachers!
This is a really FUN & HEALTHY session where we see teachers showing off their creativity and artistic skills.  Check out their bento box competition here.