Sommeil Formula 
One of the useful essential oil is Sommeil Formula. This is a very effective blend not only for calming and improving sleeping quality. It has been very useful for people with respiratory tract issues such as sensitive nose, sinus, cough or flu.
It is a special blend of effective essential for respiratory health such as Mint, Thyme and essential oil from Chinese herbs commonly used for flu and cough.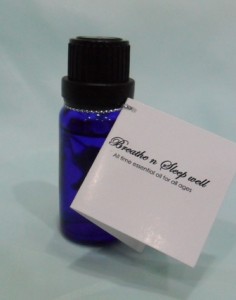 Sensitive and Runny Nose Condition 
1) Drop two drops of the oil on a tissue paper.  Put the tissue paper near to our nose to breathe.  Most of the time, the runny nose and sensitive nose condition can be relieved within 10~15min.
or
2) Put a drop of oil at each of your middle fingers. Rub gently at your Ying Xiang acupoint and breathe deeply at the same time. It helps improve the nose block or runny conditions within 5 sets of the self-massage routine.
Improving Sleep and Relaxation
1) Put a few drops of the oil at the wrist joint area and Nei Guan acupressure point (3 fingers from your wrist joint area), gentle rubbing until the oil is fully absorbed into your acupressure point.
2) Put one or two drops on top of your head, gentle tapping on your head and breathe deeply. Practice deep breathing technique as taught in LOHAS Meridian Exercise class.
3) As you perform above two action, tell yourself it is okay to relax and sleep better for the next few hours.
Retail Price: S$32 nett (excluding delivery cost)
Delivery Cost: S$5 (Singapore Only).
Call/SMS 90662770 to order.
Email us at enquiry@beaconlohas.com or contact us here for more information.