On 28 Dec 2012, Beacon LOHAS trainers team were glad that to add value to Westwood Secondary School by imparting Work Life Harmony and Stress Management techniques for the teachers, parents and their children too.
It was the right time to have the workshop just before the school re-opened, isn't it?
This is another school that we see the cheerful and fun loving teachers arrived early before the class started.  They are really a role model.
Soon before the workshop started, the room was fully packed with over 100 people.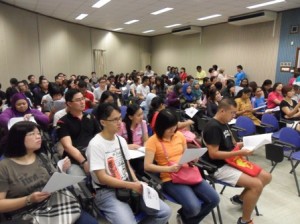 It was not a typical training for most of them, it is not a talk but interaction and hands-on filled training.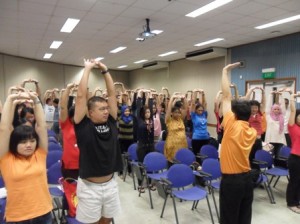 Just like our other signature Happy & Healthy programs, FUN and LAUGHTER are part of the workshop even though the title "Stress Management" may seems like a serious topic.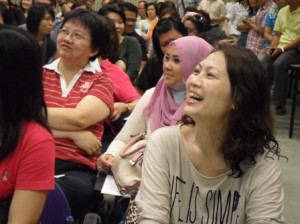 We are glad to see full participation among the audience.
Our trainer shared the key formula to achieve work life harmony – the "PEPSI"+ "COKE = PEPCO" formula (not the actual soft drink).
When he presented a slide about a case study on  how he helped a client in achieving more work life harmony, having more health and happiness,  there were numerous camera phone taken out to take a snapshot of the slide.  At that moment, we knew that we have provide a useful session for them.
Of course, in our program we try to enlighten the audience that by having supportive and fun loving colleague can make our working life enjoyable. We don't say it, we let participant felt it.
Similarly, this happens in a family. Good to see that siblings were attending class together.  Now, they have a common language.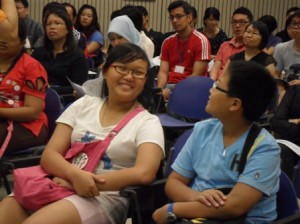 In another short 20 minutes, our trainer also shared a simple and practical way to establish our stress management system.  One of the core ingredient would be knowing who we are.
Our participants sure having FUN discovering their uniqueness with our simple and useful techniques.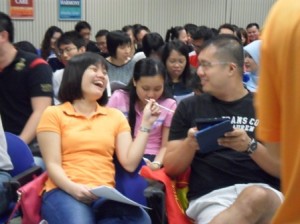 Of course, if given more time, they would have more FUN and enlightening moment doing this activity.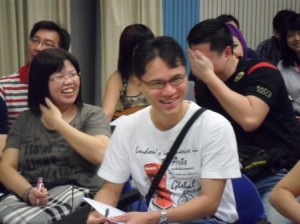 The participants also get to practice a simple and useful 1-minute LOHAS Meridian Self-Therapy technique for coming and relaxing.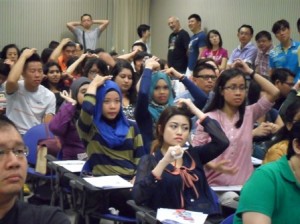 Peng Tatt guided the 100 participants to perform LOHAS Meridian Self-Therapy calming and relaxing techniques.
Within a minute or two, there were people commenting it was relaxing and some even could even feel "sleepiness".  Five minutes ago they were having fun and excited discovering themselves and now they are sleepy.  Good to see that happened.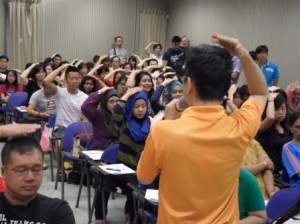 In fact, the LOHAS Meridian Self-Therapy is useful for our fast pace society. That is the reason Beacon LOHAS has been passionate sharing this SUSTAINABLE HEALTH techniques.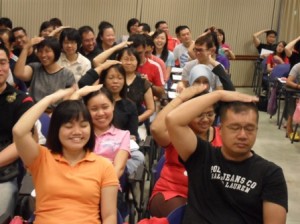 We are glad to see good feedback after our session.  Of course, we sincerely hope to teach more in-depth knowledge if time permits in the future.
What Participants Like About Our Workshop?
"I like the segment – finding strength from within" – Atika
"Simple way to identify and solve stress" – Audrey
"It is fun and it allows me to gain more knowledge" – Xiao Hui
"The practical tips and very simple techniques for improvement,  good and lively session, good presentation" – Kong Nam
"The LOHAS Meridian Calming techniques" – Liza
"LOHAS Meridian Calming techniques" – Sok Fern
"Methods on stress management" – Benson Fong