LOHAS Meridian Self-Therapy Basic (LOHAS-MSB)
~ Beyond Meridian Massage~
Ancient Therapy for the Modern Living
In our modern lifestyle, "busy", "stress", "not enough time", "too many things to juggle" had become common phrases in our daily routine. For some people, having quality time for a proper lunch would be a luxurious thing to have in their hectic schedule.
Having said that, deep down in our heart, we know that we need to take care of ourselves, our mind and body. Many would have agreed that they should exercise twice a week but having challenges finding time to do so.
LOHAS Meridian Self-Therapy Basic is an innovation by Beacon LOHAS to address our modern lifestyles needs so that we being healthy is easy, can be done anytime and anywhere.
Since an amazing LOHAS DIY Meridian Massage Practical Workshop (DIYMM-p) was first successfully launched in 2009, many people from different coutries had attended the session.
Our initial worry that language could be a barrier for effective learning. Looks like our worry is just in our mind.
Over the past four years, DIYMM-p had developed and evolved into a more comprehensive and effective techniques (beyond D.I.Y Massage) to suit our modern lifestyles. Thus, the name LOHAS Meridan Self-Therapy came about.
We have more than 3500 participants learning our the techniques over the years.
Each month, there were many testimonials and feeback on how our participants have used the techniques to improve on their health and their family members health too. That is exactly the outcome we would like to see for our participants.
Most of all, these can be done at the safest and natural way because what we need is our hands only.
The workshop was intended to be FUN, PRACTICAL & EASY to practise for participants and it served this objective very well.
The LOHAS Meridian Self-Therapy Basic (LOHAS-MSB) mission is to equip the participants with simple and easy way to take care of their health and their love one.
Event Photos
| | | | |
| --- | --- | --- | --- |
| | | | |
| Participants from UK, US and India | Experts at various fields | John trying to locate the Zhong Fu | Mishal listen attentively |
| | | | |
| This points helps in perspirations and pores | This is useful for blocked nose and flu | Lady CEO in the making. Cheerful and detail logistics planner. | We are GOOD! |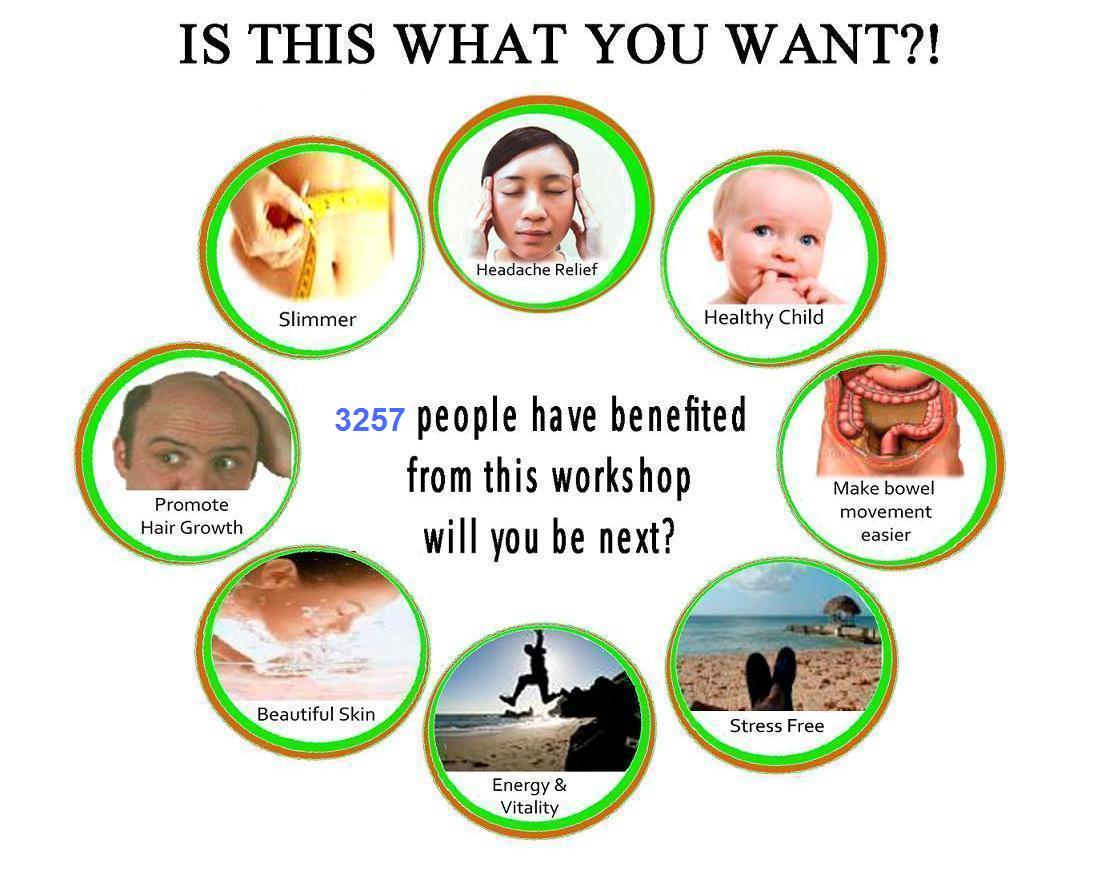 LOHAS Meridian Self-Therapy Basic
~ Beyond Meridian Massage ~
LOHAS Meridian Self-Therapy Basic is designed for the busy individuals. It helps them to save time and money.
The meridian interconnect deep within the body core and there are specific acupressure points along the meridians. They can be envisioned as highways between the acupressure points in the body. The common illness we have in our modern society can be frequently linked to the blockage of the meridians.
LOHAS Meridian Self-Therapy Basic helps to clear the blockage in our body and thus helps to strengthen our internal organs and balance the five elements of our body. It is therefore able to help to relieve many common illness and pains such as migraine, flu, cold, fever, indigestion, PMS, constipation, acne, lethargic and skin problems.
| | | | |
| --- | --- | --- | --- |
| | | | |
| Fitness Coach participate fully | This is the Chi Ze point. | Amazing partners showing the points to massage for flu or cough. | Oh, this sure helps to relax. |
| | | | |
| Well done! You press on the right spot! | Yanna enjoyed practising on Mishal | This is commonly used for head and neck pain. | Peng Tatt showing the right way to find the point. |
| | | | |
| This is how to relieve neck pain. | You are Amazing Partner. | Let me try my skills. | John having fun during practical session. |
| | | | |
| Yaana very focus. | What is the joke? | Group massage and exercise time. | Lets locate the lung meridian together. |
| | | | |
| Sheila sure enjoy a back massage. | Meridian Massage is interesting, do you do service for others? | Let me try to help you on the back pain. | H31 Meridian Fomula helps to relieve stiff shoulder, non-oily, fast absorption and long lasting effect. |
| | | | |
| Jacklyn's turn to try out. | Peng Tatt was facinated by the energy of the participants. | Natural "Pain Killer" | Teacher and student engrossed in practical session. |
| | | | |
| Important massage point for women vitality. | Wise man in deep thought. Where is the "door to treasure" meridian point? | John sharing a story of accupuncture point. | This helps heart related and blood pressure problems. |
| | | | |
| Learning from Kungfu Panda?? | Lets break the record. | If Bladder Meridian is blocked… | Participants helping each other practising. |
More photos of past events
The workshop will cover the following topics:
Basic understanding of our meridians systems.
How do the 12 meridians affect our health, emotion and natural beauty.
Meridian Self-Therapy techniques and routine to strengthen respiratory system (Astma, Sinus, Sensitive Nose, Cough and Sore Throat).
Effective stretching exercise and self-massage for relieving stress, migraine, pain and ache.
Powerful and Effective LOHAS Meridian Exercise basic routine for better Qi and Blood flow. (Digestive systems and bowel movement, weight management).
Massage for children for parents who are concern.
LOHAS way for better meridian systems.
| | | | |
| --- | --- | --- | --- |
| | | | |
| Mishal had a good massage partner. | Even Junie was also engrossed in the lesson. | Top student award, chinese herbal DIY Facial Towel. | Amazing participants with awesome trainer. |
| | | | |
| The amazing participants with our two lovely assistant trainers. | Yaana from Czech, Mishal from India and Peng Tatt from Malaysia meeting in Singapore. | Yes, we enjoyed the session! | Sheila and Peng Tatt love Natural Therapy. |
More about LOHAS Meridian Massage & Self-Therapy…
Live Testimonial
"I like the simple massage technique", Sebatian. Trading Business
"The simple yet light hearted method makes the presentation and demostration clear and easy to remember", Steven Tan, Pet Shop & Fish Spa Owner
"What attracts me is the simple and easy way of massage", Mdm Ng, Homemaker.
"The DIY techniques that you taught them is definately useful as the Meridian Massage treats the whole body and thereby also causes a pychic balance…" , Mdm Aw, Program Executive
"You have a very interesting workshop and easy massage slimming method", Ivy Chan, Children Education Coach.
"The trainer is knowledgeable and show his passion in sharing his experience", CK. Financial Trading.
"The is a very informative session. Now I understand why I need to perform certain stroke in martial arts. It's enlightening. I am interested to learn the advance class.", Sunny, Feng Shui Practioner.
"The session is very informative and yet practical", Devendra, IT Security Business Owner.
"This is easy to understand, simple and practical session. I hope you have weekdays class too." Mrs. Tan.
"I like the clear instructions, very helpful handout, active participation. The light hearted and practical aspect is excellent. Your workshop is very informative and enjoyable. Good Value!" Sheila, Massage Therapist, United Kingdom.
"I have tried other methods in relieving my constipation condition, however it took me half an hour to see the effect. After learning your unique technique, I see results in JUST 5 Minutes. Thank you for teaching this!", Clara Pang, Nurse
""Another wonderful weekend with you all awesome people! Thanks for many practical massage tips", Wei Xian, 31 Aug 09
"Very enlightening workshop. Suitable for anyone who wishes to know about self-massage, personal health and well being", Dr. Neo, 30 Aug 09
"I have tried the method taught by the trainer, and it really relieved the echo in my ear", Amnah, Nov 09
"Yes, I have tried anger release massage on my mum and her mood improve a lot now", Margaret, Nov 09
"I tried the Anger Release Point you mentioned at the Mindef lunch time talk and I can sleep better that night. That is why I come to learn more", May, May 10
"I think the tapping technique you taught is working for me. I used to have stiff neck and shoulder, I feel "sng" (pain and soreness) at my calves every night. Now I don't feel it experience it anymore", Rachel, 28 Jun 10.
"I had tennis elbow last year and the doctor advised me to go for yearly injection. I tried meridian massage and exercise and I pressed my He Gu point regularly. Now I don't have tennis elbow anymore and the good things is I don't have to go through the YEARLY injection" Mdm Ow, July 10.
More client feedback here…
Upcoming Workshop:
Ancient Therapy For The Modern Living
Date: Currently there is no schedule.
Please check LOHAS-MSP for more details.
Small class size to facilitate participants maximum learning
Call 90662770 or 98630062 or email enquiry@beaconlohas.com to Register Now.