9 Oct 2011
On 8 Oct 2011, we had another good meeting with fellow graduates of LOHAS Meridian Massage Workshop (Comprehensive).  Vincent, Lai Kwan, Felicia, Mdm Aw, Edwina, Anna and Hsiu Mei were present in our gathering.
The gathering was a good meet up session for all. In a nice, casual ambient, there were plenty of fun and laughter. Different batches of graduate get to meet each other and share experience too.  Of course, nice food is always one of the good attraction here too.
The idea of having gathering to support our graduate in refreshing their learning and practising of LOHAS Meridian Massage and self-therapy.  At the same time, they get to learn new knowledge about meridian health and massage.
In this gathering, our meridian health master trainer, Peng Tatt, shared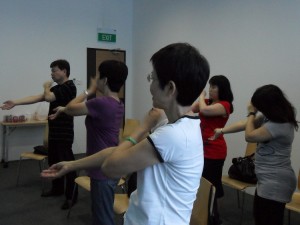 about the definition body type according to latest research in Traditional Chinese Medicine.  They also get to understand the body signal when they are lack of "yin", lack of "yang", lack of "Qi" and do a simple test of "sensitive" body type. They also get to know what are the simple remedies for different type of body natures.
We are glad that many of our graduate belongs to "balanced type" body.  Hope that they continue to practise LOHAS Meridian Massage and Hand Techniques and stay balanced.
Some graduates also get their queries answered regarding their health issues and how to use meridian massage and exercise technique to improve health conditions.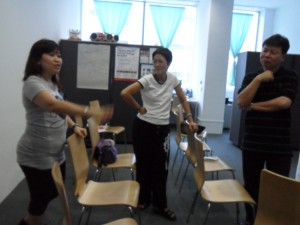 Edwina shared her experience how she had used LOHAS Meridian Massage and hand techniques to revive her father-in-law.  Her story can be found in LOHAS DIGEST 26 too.
Edwina also shared that after practising LOHAS Meridian Exercise (LOHAS-ME), she managed to improved her circulation and she does not have cold hand and feet anymore. Now, she diligently spends 5~10 minutes in the morning to practise the LOHAS-ME.  In fact, when Peng Tatt observe her face, her face color has improved after she has finished her LOHAS Meridian Massage workshop (Comprehensive). Well done, Edwina!
Our pioneer batch of DIYMMC participant commented to us, "Over the years, you have improved a lot".  Thanks for the feedback.  Yes, we would like to grow healthier together with our participants – we are your SUSTAINABLE HEALTH partner.
Thanks all the graduates who were present yesterday and we wish you "Stay Healthy, Stay Awesome"!
The next gathering will be on Dec 2011. Looking forward to see all our graduate to join us again for more learning and experiences.