31 Aug 2012
It was a special day because it was Friday and last day of the month.
It was also Workforce Development Agency (WDA) – FPMD division staffs bonding day.
Beacon LOHAS trainers team were ready to add lots of healthy and fun learning to the staffs of FPMD division in this special day.
Li Huan and Peng Tatt together with Eileen arrived early at the room to make sure the roomwas properly setup to receive the hard working staffs.
– Projector? checked
– Music? checked
– Flip Chart? checked
– Well Prepared Notes? checked
The staffs were given a surprise when they realized that this not their usual health talk or training.
We put a smile on their face with an interesting slides.
We started with a light hearted moment and good warm up activity.
While learning what is Meridian System and LOHAS Meridian Self-Therapy, participants get to practice what they learn and understand about their body telling sign.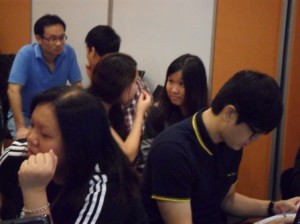 This is always a fun activity to see many people have that "AHA" moment.
One of the uniqueness of our program is we make things simple and easy to understand.
During the non-stop fun filled healthy session, the participants get to interact, understand and helping each other.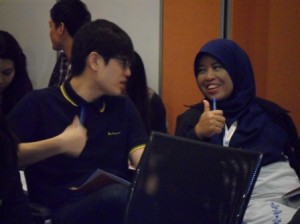 Along the way, we made sure we have lots of good learning on how to use LOHAS Meridian Self-Therapy to improve our overall health.
In shorter than 3 hours, they get to learn useful techniques such as
– managing stress and stress related symptoms,
– relieve aches and pains that commonly found in desk bound working executive
– how to prevent from falling sick and be productive and
– LOHAS Meridian Exercise basic steps ~ "5 minutes a day, happy and healthy always"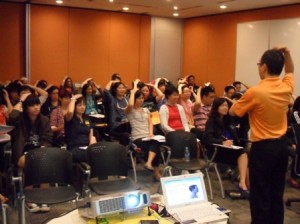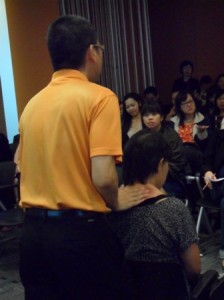 Peng Tatt showed them how to use two steps technique for the stiff shoulder and she can turn her head better within minutes.
Importantly, the technique is easy to learn and practice.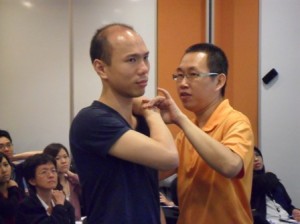 Of course, we have lots of fun practicing as well.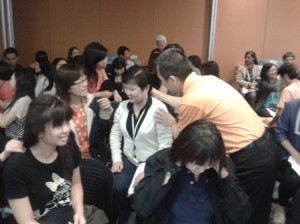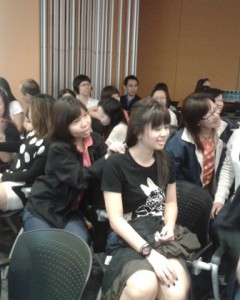 Creating "Happy & Healthy" work culture is Beacon LOHAS passion.
The two ladies just have a sip of healthy supportive environment means.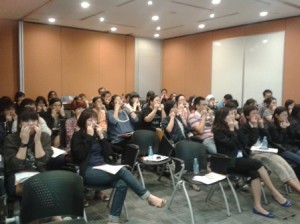 At the end of the morning session, the participants get to learn useful knowledge for our health and techniques we can help our loved ones.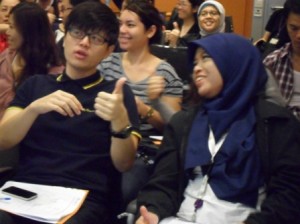 Of course, it was done with great fun and great learning.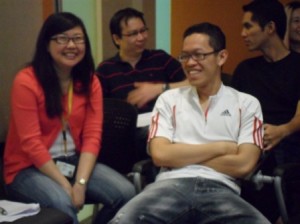 Thanks to the efficient orgniser, Eileen who make this things happened.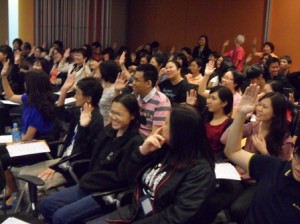 Not to forget, the wonderful people that participated fully.
Awesome people we met at WDA on 31 Aug 2012.
Participants Feedback
"What I like about this workshop is the instructor is very sincere."
"Interesting practical self-therapy skills"
"I learnt how to manage stress better"
"Engaging, interactive, informative.  The trainer shared the experiences of other which are very useful in helping us understand how these techniques can be beneficial to us as well"
"I have more insight how the meridian helps in health"
"I wish I have more time to practice"
"I like the LOHAS Meridian Exercise basic"
"I learnt that keeping myself healthy is so simple, exercise is so easy"
"Trainer is very funny and well spoken. Knowledge is his area"
"It is experiential and practical for daily use"
"Informative, engaging.  Not too long and not too short"
"Interesting, helps me know about my body"
"Beneficial to our health if practiced"
"Fun and easy to follow"
"All the tips shared during the session, especially the shoulder point"
"Interesting and the technique taught are useful"
"Useful, effective, easy-to-learn techniques"
Thank you all for the feedback.
We have so much techniques and experience to share with the staffs.
We hope to have more opportunity and time to share more great health techniques to all of you.
If you are healthy, we are happy!! 🙂
From: Your SUSTAINABLE HEALTH partner