16 Mar 2012
It's was an energetic morning when we stepped into the office of MindChamps.
Seeing all the staffs wearing the bright red tee-shirt and walking in a fast pace with lots of energy, tells us that there is a dynamic team inside this company.  The background music helped to bring up the atmosphere, it seemed like everybody is looking forward to their monthly meeting.
Beacon LOHAS is honored to serve such a dynamic and fun team, helping them in creating happy and healthy lifestyle in their fast pace environment. While waiting patiently outside the meeting room, Li Huan and I heard laughters and cheers, sipping through the tightly closed door.
Laughter and cheers? What an interesting monthly meeting they are having?
What games are they playing?
It triggered the inner child inside me and made me so curious in what is happening.
At the same time, I was looking forward to add value to this fun loving people.
Fifteen minutes later, it's was our turn to be inside the room.  We were so privilege to hear Michelle sharing her journey of going through health challenges and how she managed to get well.  All this made her treasures her health, her life and people around her.
Her message to her beloved colleagues, "Healthy life is a meaningful life".  When she mentioned this, it resonated with my heart, because this is exactly Beacon LOHAS colorful logo means – "life with health is colorful".

Inside my heart, "I have a mission today, to inspire the dynamic people here to take care of themselves better with the simple and effective LOHAS Meridian Self-Therapy techniques".
Many people would have known that MindChamps is a dynamic institute that brings out the genius of our children.  They have many fun and effective learning techniques for their student.  With that in mind, it's logical to think that any ordinary,mediocre & boring wellness program would not suit the dynamic staffs of this organisation.
As the training provider, we have to match up or even exceed their expectation towards a FUN, INFORMATIVE and PRACTICAL session.  And we did it in just 60 minutes!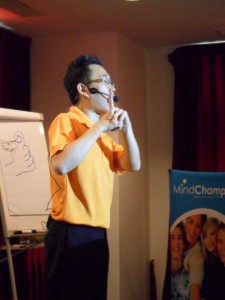 While explaining the LOHAS Meridian concepts clearly and lively to them, the passionate trainer gets the staffs to participate FULLY, with lots of fun and energy. They lived up to the name of  "Power Up Your Health" session, they get to learn useful and very powerful  "LOHAS Meridian Exercise Basic", a simple and effective way to energize the body and start the day with more energy.
The Champs there also learnt many useful techniques to manage stress related symptoms, improve respiratory systems (sensitive nose) and immune systems.  Of course, some of the simple exercise would help them with better digestion and weight management too.
One of the participants can feel the energy is moving inside him within 5 minutes of practice.  Yes! "5 min a day, happy and healthy always" is our motto of the program.
Through out this compact, informative and fun session, participants get to understand their body better and learn some telling sign of their body meridian health status.  They get to find many useful body point that helps them to make them healthier (not sick doesn't means healthy yet).
The session ended in a high spirit where all the staffs learnt useful techniques and get their health questions answered by our trainers. Some common issues are related to aches and pains. They also get the chance to clarify for their family members health issue. The trainers were delighted to know that there are such a keen interest in this natural, safe and most cost effective way of stay healthy.
Of course, this is just the first session of "Happy and Healthy at Workplace". Imagine that if they get to practice and learn more of the LOHAS Meridian Self-Therapy techniques on the monthly basis, it would create a healthy and dynamic team for better performance at work.
It also means that the staffs are healthy and productive, which in turns allows them to have more quality time with their family or personal life.  This is the vision of Beacon LOHAS employee wellness program. Creating a healthy, balanced work-life.
Beacon LOHAS is not just only your training provider.
We are your SUSTAINABLE HEALTH partner.